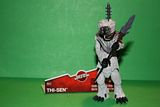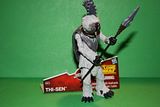 The Clone Wars
2009 Wave 8
CW43
Thi-Sen
Accessories
Thi-Sen is packaged with a spear, armor, and a headdress.
Look and Feel
Like other members of The Clone Wars figures, this figure also seems to have an eating disorder when compared to the Talz in the cantina from A New Hope. However, I do like this figure a lot especially without the armor and headdress. I have had some difficulty making the armor and headdress sit correctly on the figure, but I really thing that Thi-Sen looks much better without all that junk. The figure does hold his weapon well and can even hold it with two hands. The paint apps are very appropriate and the sculpt of the figure does simulate fur very well.
Articulation
Thi-Sen has ball-hinged joints in the shoulders, knees, and elbows. He also features a swivel joints in the neck, wrists, hips, and torso.
Overall Reaction
This figure has grown on me over time. When I first got the figure I think I got annoyed with getting the armor and headdress to sit properly. Now I could care less about those accessories and I like the figure just holding a spear. I don't think this figure would fit into a movie accurate diorama unless the collector is alright with a thin Talz, but in comparison to the other figures we have of this species he is ridiculously thin. I personally will use him in the back ground of my cantina and just think of Muftak as a guy that made a few too many trips to the all you can eat buffet.