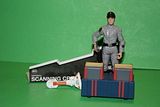 The Legacy Collection
Wave 10
#32
Imperial Scanning Crew
Accessories
The Imperial Scanning Crew is packaged with blaster, scanning base, and a build-a-droid piece.
Look and Feel
This figure is fairly close to the on screen character seen in A New Hope. The ones in the movie do not have holsters, but other than that look pretty much the same. The imperial patches do stick out quite a bit, I am very pleased with this figure. The scanner is off in my opinion. The colors seem off, but it is hard to see and you can't see the side as the lid to the top part of the scanner blocks your view.
Articulation
The scanning crew tech has ball-hinged joints the neck, shoulders, elbows, knees, and ankles. There are also swivel joints in the wrists, waist, and hips.
Overall Reaction
I personally love this figure and have purchased three so far. I am hoping that the value packs that have this figure hit near my neck of the woods so I can pick up even more of him. Seeing as the bridge crew on the Star Destroyers have the same uniform (they just need a headset) and you can see these uniforms walking around the halls of the the Death Star I would love to grab as many as I can for dioramas. I just don't know what I will do with all those scanning boxes. This is a must buy in my opinion.