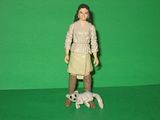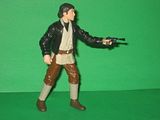 The Vintage Collection
Exclusive Comic 2-Pack
Celebration 5
Camie Marstrap and Laze "Fixer" Loneozner
Accessories
Camie comes with her pet... cat???
Fixer comes with a blaster.
Both figures are packed with the Empire comic #8.
Look and Feel
Camie - Though only seen in cut scenes, this figure does capture the character's likeness, but I was disappointed in not seeing some soft goods in her skirt. The rest of the body sculpt is good although her outfit really doesn't feature a lot of detail. The head sculpt is decent, but I have some poor paint apps near her hair line and my Camie actually has flesh colored hair. She does come with her pet, but for me it is a throw away piece that I could care less about and it looks like a drugged out Taco Bell dog.
Fixer - Like Camie, you see this character in cut scenes and he really has some great parts in the audio drama if you check it out. The figure is much better than Camie in my opinion and the body sculpt is well done. It actually makes me think of a Star Wars Indiana Jones. The problem with this figure is Fixer's hands. The just seem enormous! His head sculpt and paint apps are good and Fixer holds his blaster well.

Articulation
Camie sports ball hinged head, shoulders, elbows, and knees. There also swivel joints in the waist, hips, and wrists.
Fixer sports ball hinged head, shoulders, elbows, knees, and ankles. He also has swivel wrists, hips, and waist.
Overall Reaction
I was very excited when I order my set online and was blown away by the packaging much like I was with the Darth Maul set. Having opened the set, however, my opinion really changed. There are just too many glaring issues with both figures and for character that are from a cut scene that just isn't all that exciting to get me amped about this set. I really don't like Camie's set nor the design of the figure and every time I look at Fixer he mammoth hands just glare out at me. In my opinion this is a swing and a miss.