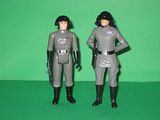 Death Squad Commander
Star Wars - A New Hope
Accessories
For this custom I used the helmet that came with the Death Star Trooper figure from the TAC line and the blaster from the Saga Collection General Veers.
Look and Feel
I am very pleased with the look of this custom. The only problem it has is the articulation, but hey it is better than the vintage one! I may try to see if I can flip the insignia as on the vintage version it has the colors flipped.
Pieces Used
Body - I use the body and blasterof General Veers from The Saga Collection.
Head - I use the head and helmet from the Death Star Trooper in the TAC line.


Overall Reaction
This is another simple custom that can be done. You basicaly need two figures, General Veers from the TSC and the Death Star Trooper from the TAC. His head looks good, but you will need to puddy or clay to fill in the post hole to get a more secure fit.
Email comments or questions to: